Biology
GCSE BIOLOGY year 10
The GCSE Biology course is covered over 2 years of study with students sitting external exams at the end of year 11.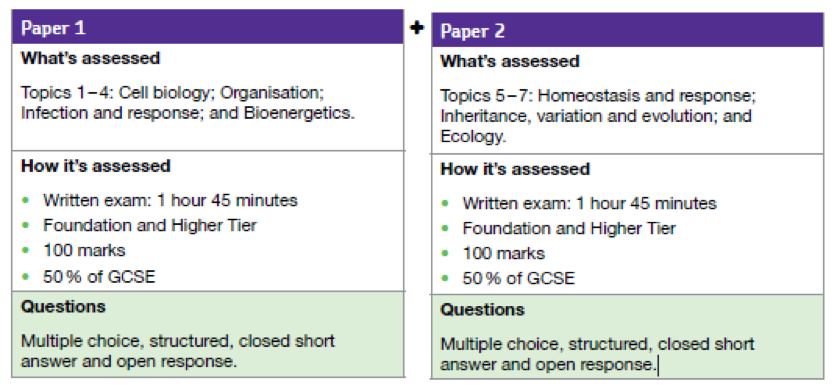 Students study a range of biological concepts with practical science at the core of all lessons to develop the skill of working scientifically to build a deep understanding of science with our students. This includes the development of scientific thinking, Experimental skills and strategies, Analysis and Evaluation; and the development of Scientific vocabulary
http://www.aqa.org.uk/subjects/science/gcse/biology-8461
A Level Biology (current Yr 12)
Biology A-level will give you the skills to make connections and associations with all living things around you.
Biology literally means the study of life and if that's not important, what is? Being such a broad topic you're bound to find a specific area of interest, plus it opens the door to a fantastic range of interesting careers.
Topics covered
A-level Biology lasts two years, with exams at the end of the second year. Practical remains at the core of what we do and is integrated into all lessons.
The table below shows the topics you will study in each year.
Practicals
Biology, like all sciences, is a practical subject.
Throughout the course you will carry out practical activities including:
using microscopes to see cell division
dissection of animal or plant systems
aseptic technique to study microbial growth
investigating activity within cells
investigating animal behaviors
investigating distributions of species in the environment.
These practicals will give you the skills and confidence needed to investigate the way living things behave and work. It will also ensure that if you choose to study a Biology-based subject at university, you'll have the practical skills needed to carry out successful experiments in your degree.
Exams
There is no coursework on this course. However, your performance during practicals will be assessed.
There are three exams at the end of the two years for A-level, all of which are two hours long.
At least 15% of the marks for A-level Biology are based on what you learned in your practical's.
http://www.aqa.org.uk/subjects/science/as-and-a-level/biology-7401-7402/introduction
Year 13 biology (last year of specification)
A Level Biology A will give you an exciting insight into the contemporary world of biology. It covers the key concepts of biology and practical skills are integrated throughout the course. This combination of academic challenge and practical focus makes the prospect of studying A Level Biology A highly appealing.
You will learn about the core concepts of biology and about the impact of biological research and how it links to everyday life. You will learn to apply your knowledge, investigate and solve problems in a range of contexts.
How will you be assessed?
Total of six hours assessment split over three examination papers (2 x 2 hours 15 minutes and 1 x 1 hour 30 minutes) taken at the end of the two year course.
A wide range of question types including: multiple choice, short answer and extended response questions.
Opportunity to demonstrate your knowledge of both theory and practical skills through the examinations.
To achieve a Practical Endorsement, through a range of experiments, you will become competent in:
Following procedures
Applying an investigative approach when using instruments and equipment
Working safely
Making and recording observations
Researching, referencing and reporting.
http://www.ocr.org.uk/qualifications/as-a-level-gce-biology-a-h020-h420-from-2015/