Curriculum & Assessment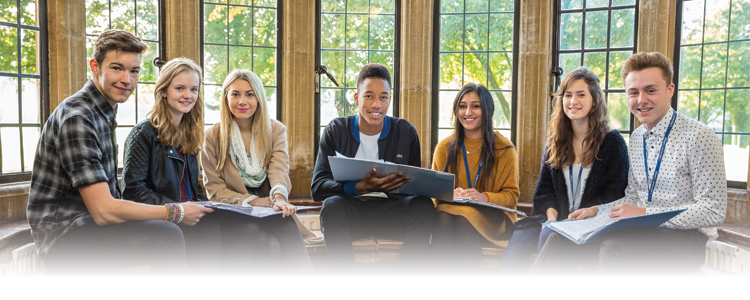 Sixth Form Curriculum
The courses studied from September 2016 fall into two different categories, although this should not determine your choices or combinations. This is because some Post 16 courses have already or are changing to 'New Linear' specifications, whilst other courses will still be offering their existing specification.
As a consequence of asking students to only choose three subjects at Sixth Form we have been able to build in 10 hours of lessons per fortnight for each subject.
Apart from this increased contact time with teachers we believe this move will also:
• Allow students to focus from the very outset on the courses they are really interested in
• Negate students picking up a 'fourth' weaker subject because they have to
• Avoid the distraction of 'dropping' a subject either before or after Year 12 exams
• Lead to better outcomes for Lutterworth College Sixth Form students
The three subject choices will be enriched by the vast amount of opportunities offered by the College to have a full personal portfolio that enables each student to leave Lutterworth Sixth Form with the confidence, character and creativity to cope with the challenges and opportunities in today's dynamic society.
Students taking the Further Mathematics A level will continue to be able to access 4 A level choices.
From September 2017 the vast majority of courses offered at Lutterworth College Sixth Form will be two year courses. Students embarking on A levels or BTEC qualifications will be expected to complete the two year 'journey' through Sixth Form and complete all of their level 3 courses within that timespan. A levels will be taught with the expectation that students take all of their public examinations at the end of the two year course. Standalone AS examinations will generally not be offered at the end of Year 12 unless by specific arrangement.
The following table details the course choices that the College expects to offer to Sixth Form students from September 2017:
A levels

(25)

BTEC & Vocational

(4)

Level 2 GCSE

(2)

Accounting

Art

Biology

Business

Chemistry

Computing

Drama

Economics

English Language

English Literature

French

Further Maths

Geography

History

Maths

Media

Physical Education

Physics

Politics

Product Design

Psychology

Religious Studies

Sociology

Spanish

Health & Social

ICT

Performing Arts

Sport

English Language

&

Maths

AS levels

(1)

Extended Project Qualification (EPQ)
Advanced GCE Courses
In 2017 you can select from a choice of broad range of subjects from Accounting to Textiles. The content and style is similar to that which you will be used to with GCSE subjects but the depth and volume of the work will be much greater. Some subjects follow on directly from GCSE courses e.g. Maths, Geography, etc. but others you will not have been able to study before e.g. Economics, Psychology, Government and Politics. If you have studied the subject at GCSE you will need at least a grade C grade to follow it at Advanced GCE depending on the course. Achieving a grade B or above at GCSE is a good indicator of success in advanced courses.
Reformed A levels will:
• have new content with greater input from universities
• be linear, with assessments typically taking place after two years of study
• keep the A* to E grading scale

As a consequence of these changes the vast majority of subjects will move to linear as from September 2016 and Lutterworth College students will be fully engaging with these new linear A levels and, in the main, not undertaking AS levels at the end of Year 12.
Subjects where AS levels remain to be taken at the end of Year 12 (i.e. in Summer 2017) are:
Accounting
Design & Technology subjects
Further Mathematics
Government & Politics
Mathematics
Media Studies

From 2017 the above courses will move to become fully linear with no AS public examinations at the end of Year 12. Students on the Further Mathematics course will still undertake public examinations at the end of Year 12.
Advanced GCE Applied Courses
Advanced GCE Applied courses offer you opportunities to study at Advanced Level standard with specialism in a particular vocational (i.e. employment related) area e.g. Health & Social Care. Although there are exams, much of the course is assessed by the production of a portfolio of work (coursework). These may be a good idea for students who have undertaken Applied Courses such as a BTEC Level 2 in Years 10 and 11.
BTEC Level 3 Certificate/Subsidiary Diploma
This course is at the same level and carries the same value as the traditional A-Levels. The Certificate is equivalent to an AS-Level and the Subsidiary Diploma is equivalent to one full A-Level. It is assessed through practical and written assignments (there is no examination), with students receiving one of three grades at the end of the course. Possible grades are Distinction, Merit and Pass. The course seeks to strike a balance between an academic approach and practical skills relevant to careers in your chosen area. As with A-Levels you will receive a grade at the end of Year 12 and can opt to continue to Year 13. Through success in these courses you will achieve UCAS points for a University application
Retake English and Maths GCSEs
Should you need to gain a qualification in English or Mathematics.
Subjects (2017-8)
Please click on the subject title to see the course information.
A quick guide to subjects and entry criteria is provided here.
Should you have any further enquiries, contact us
A Levels
Accounting
Art & Design
Biology
Business Studies
Chemistry
Computer Science
Drama & Theatre Studies
D&T Product Design 3D Page 2
D&T Product Design - Textiles
Economics
English Language
English Literature
French
Geography
Government & Politics
History
Mathematics
Further Mathematics
Media Studies
Physical Education
Physics
Psychology
Religious Studies
Sociology
AS levels
Extended Project Qualification
BTEC Level 3 Courses
GCSE Re-take opportunities
GCSE English
GCSE Maths