Chemistry
GSCE CHEMISTRY YR 10
The GCSE Chemistry course is covered over 2 years of study with students sitting external exams at the end of year 11.
Students study a range of Chemical concepts with practical science at the core of all lessons to develop the skill of working scientifically to build a deep understanding of science with our students. This includes the development of scientific thinking, Experimental skills and strategies, Analysis and Evaluation; and the development of Scientific vocabulary
http://filestore.aqa.org.uk/resources/chemistry/specifications/AQA-8462-SP-2016.PDF
A Level Chemistry (current Yr 12)
A-level Chemistry attempts to answer the big question 'what is the world made of' and it's the search for this answer that makes this subject so fascinating.
From investigating how one substance can be changed drastically into another, to researching a new wonder drug to save millions of lives, the opportunities that chemistry provides are endless.
Topics covered
A-level Chemistry lasts two years, with exams at the end of the second year. The table below shows what you'll learn in each year.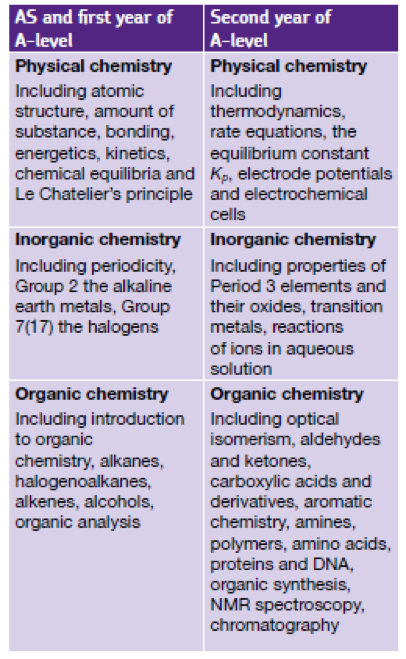 Practicals
Chemistry, like all sciences, is a practical subject.
Throughout the course you will carry out practical activities including:
measuring energy changes in chemical reactions
tests for identifying different types of compound
different methods for measuring rates of reaction
studying electrochemical cells
preparation of organic solids and liquids
an advanced form of chromatography for more accurate results.
Exams
There is no coursework on this course. However, your performance during practicals will be assessed.
There are three exams at the end of the two years for A-level, all of which are two hours long. At least 15% of the marks for A-level Chemistry are based on what you learned in your practicals.
http://www.aqa.org.uk/subjects/science/as-and-a-level/chemistry-7404-7405/introduction
Year 13 chemistry (last year of specification)
Have you ever wondered...
What is in a medicine?
What new fuels do we need to develop?
Why do onions make you cry?
How is chemistry linked to art?
Can you turn lead into gold?
Study A Level Chemistry B (Salters) to find out the answers.
A Level Chemistry B will give you an exciting insight into the contemporary world of chemistry. It covers a range of different contexts, conveying the excitement of contemporary chemistry. This combination of academic challenge, relevant context and practical focus makes the prospect of studying A level Chemistry B highly appealing.
You will learn about chemistry in a range of different contexts and the impact it has on industry and many aspects of everyday life. You will learn to investigate and solve problems in a range of contexts.
What's included
Elements of life
Developing fuels
Elements from the sea
The ozone story
What's in a medicine?
The chemical industry
Polymers and life
Oceans
Developing metals
Colour by design
Emphasis throughout the course is on developing knowledge, competence and confidence in practical skills and problem solving. You will learn how society makes decisions about scientific issues and how sciences contribute to the success of the economy and society.
How will you be assessed?
Total of 6 hours of examinations (2 x 2 hours 15 minutes and 1 x 1 hour 30 minutes) taken at the end of the course.
A wide range of question types including multiple choice, short answer and extended response questions.
Opportunity to demonstrate your knowledge of both theory and practical skills through the examinations.
To achieve a Practical Endorsement you will be expected through a range of experiments to display your competency in:
Following procedures
Applying an investigative approach when using instruments and equipment
Working safely
Making and recording observations
Researching, referencing and reporting.
http://www.ocr.org.uk/qualifications/as-a-level-gce-chemistry-b-salters-h033-h433-from-2015/