Physics
GCSE PHYSICS
The GCSE Physics course is covered over 2 years of study with students sitting external exams at the end of year 11.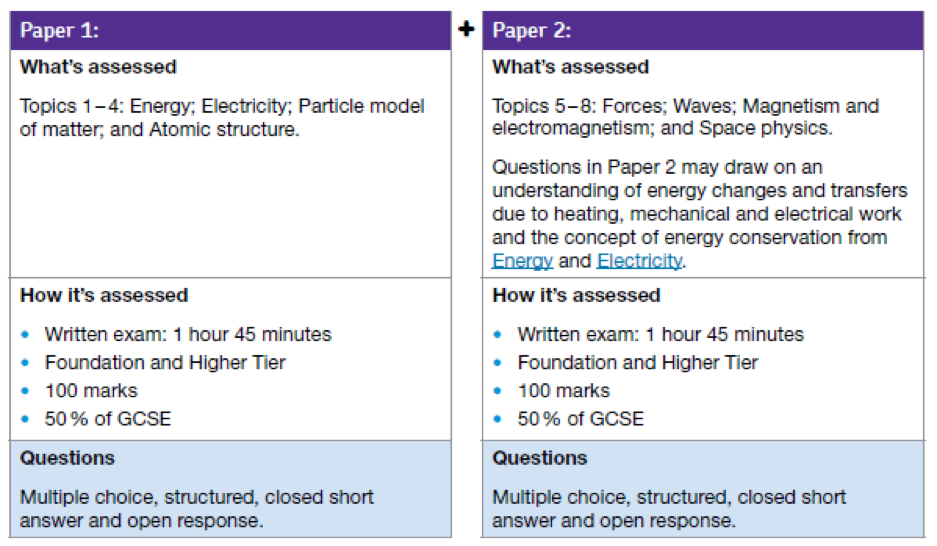 Students study a range of Physics concepts with practical science at the core of all lessons to develop the skill of working scientifically to build a deep understanding of science with our students. This includes the development of scientific thinking, Experimental skills and strategies, Analysis and Evaluation; and the development of Scientific vocabulary
http://www.aqa.org.uk/subjects/science/gcse/physics-8463
A Level Physics (current Yr 12)
Physicists explore the fundamental nature of almost everything we know of. They probe the furthest reaches of the earth to study the smallest pieces of matter. Join them to enter a world deep beneath the surface of normal human experience.
Topics covered
A-level Physics lasts two years, with exams at the end of the second year. The table below shows the topics covered in each year.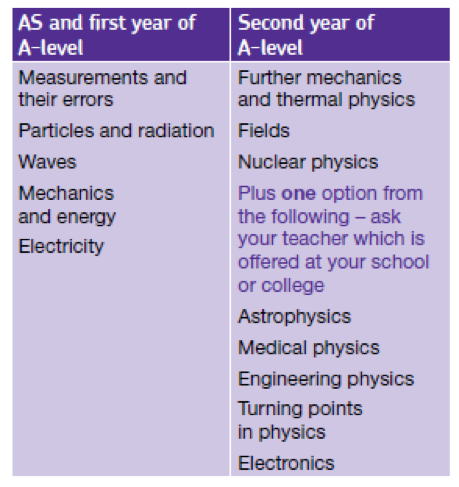 Practicals
Physics, like all sciences, is a practical subject.
Throughout the course you will carry out practical activities including:
investigating interference and diffraction of laser light
measuring acceleration due to gravity
investigating systems that oscillate
investigation of the links between temperature, volume and pressure
safe use of ionising radiation • investigating magnetic fields.
These practicals will give you the skills and confidence needed to investigate the way things
behave and work. It will also ensure that if you choose to study a Physics-based subject at
university, you'll have the practical skills needed to carry out successful experiments in your degree.
Exams
There is no coursework on this course.
However, your performance during practicals will be assessed.
There are three exams at the end of the two years for A-level, all of which are two hours long. At least 15% of the marks for A-level Physics are based on what you learned in your practicals.
http://www.aqa.org.uk/subjects/science/as-and-a-level/physics-7407-7408
Year 13 Physics (last year of specification)
Have you ever wondered . . .
Why the universe behaves the way it does?
How ultrasound can create a picture?
How fast you would have to travel to fool a speed camera?
What force would be necessary to stop a formula one car?
What are CERN looking for?
Physics A Level is one of the most universally accepted qualifications for progression to university. The course content covers the basis of how things work, from the constituent parts of atoms out to the extent of the universe. You will integrate the concepts studied with a range of practical experiments throughout each topic giving the course both an academic and practical focus. You will learn to apply your knowledge of the key concepts to solve problems in a range of different contexts and applications.
How will you be assessed?
A Level is covered by three examinations:
Total of 6 hours of examinations (2 x 2 hours 15 minutes and 1 x 1 hour 30 minutes) taken at the end of the course.
A wide range of questions types which include multiple choice, short answer and extended response
Practical endorsement
Wide range of practical experience incorporating apparatus, skills and techniques.
With experiments such as;
Measuring resistance in a circuit with various resistor combinations
Obtaining a value for absolute zero
Analysing the discharge of a capacitor
Obtaining a value for 'g' from a pendulum.
http://www.ocr.org.uk/qualifications/as-a-level-gce-physics-a-h156-h556-from-2015/