Related Pages
Latest News
Curriculum & Assessment - Key Stage 3 (Years 7 & 8)
CURRICULUM
In Key Stage 3 (the first two years at Lutterworth College - Year 7 & Year 8) we offer a broad and balanced curriculum that aims to provide students with a range of experiences across a variety of subjects. Our Key Stage 3 curriculum for all students covers English, Maths, Science, Computing, Technology, Art, Music, Drama, History, Geography, Modern Foreign Languages, Physical Education, Religious Education and Personal Development.
Within KS3 there is a strong foundation built on Core subjects with Maths, English & Science subjects represented strongly as well as 4 hours of Physical Education per fortnight (which will continue through to Year 11).
All subjects studied by students at Key Stage 3 (Year 7 & Year 8) lead on to the wide range of courses we offer at GCSE and A-Level and thus enables a seamless progression through to Key Stage 4 and Post 16. We are very proud of the wide range of subjects we offer and we are committed to maintaining a broad choice for our students as an 11-19 College.
During Year 8 students will be able to choose their optional subjects for Key Stage 4 (Years 9-11) that will lead onto GCSE qualifications. Further details on this process and the GCSE options booklet can be found on our Key Stage 4 Curriculum & Assessment page.
In 2016-17 Our KS3 curriculum is represented as follows: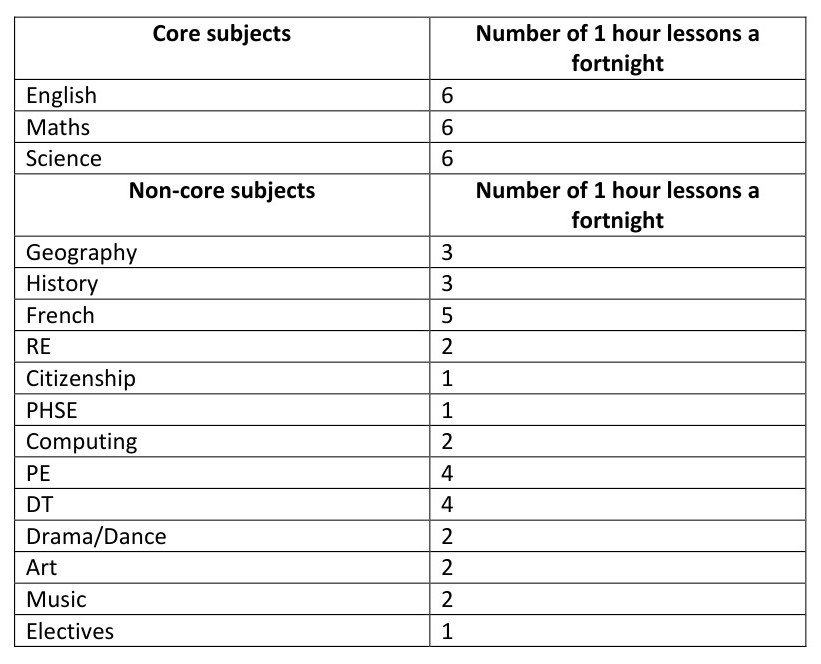 From September 2017 the Key Stage 3 Curriculum will slightly alter to the following (allowing 50% of a students timetable to be dedicated to the core subjects of English, Maths, Science & PE whilst retaining a balanced foundation in other subjects as represented in the following table:
Core Subjects

Subjects

Typical hours per subject

(per 2-week cycle)

Enrichment opportunities

English

English Language & English Literature

8

Electives

Duke of Edinburgh Award

Sport Leaders

Volunteering Programme

Arts Award

Adventure Award

Sports Teams

School Productions

Student Leadership

Student Voice

Maths

Mathematics

8

Science

Biology, Chemistry & Physics

6

PE

Core Physical Education

4

Foundation subjects

Geography (4)

History (4)

Modern Foreign Languages (3)

Design Technology (3)

Computing (2)

RE (2)

Performing Arts (2)

Music (2)

Art (2)

24

(individual subject hours in brackets)
ASSESSMENT
At Lutterworth College KS3 we have developed an assessment and reporting policy that focuses on each individual student, so that they can be best supported to achieve high levels of progress. Each subject has designed a long term curriculum plan that maps out the knowledge and skills required to be successful in a subject and when these are going to developed throughout each academic year.
You can access Lutterworth College's Assessment Guidance Booklet that informs the Assessment Grids across all of the subjects offered in Year 7 and Year 8 here.
On entry to Lutterworth College students are given a progress pathway based on their prior attainment at Primary school. In order for each student to be making expected progress they will need to develop the knowledge and skills in each subject that are relevant to that pathway by the end of the academic year. A student's progress is monitored and assessed throughout the academic year and reported home on 3 occasions: in January following the Autumn term, in April following the Spring term, and in July following the Summer term.
The first two reports will be interim reports that explain each child's current progress and what they need to do to improve, whilst the last report will be a full written report that gives detail on the student's achievements throughout the academic year.