Our School Vision & Values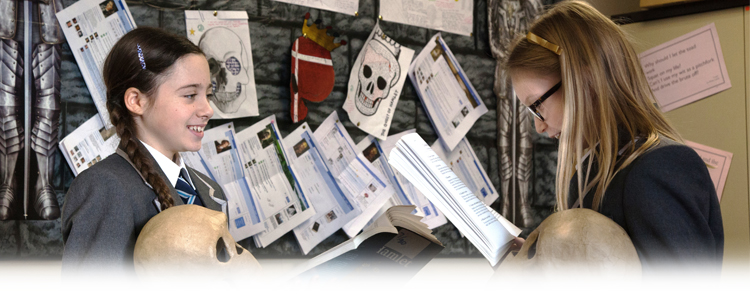 The school has a powerful Christian vision which has considerable impact on the lives of all pupils, and is particularly evident in the pastoral care system.

The school has a strong and effective senior leadership team with a clear understanding of the vision and a development programme to further embed it in the life of the school.

Religious education is very effective, and this is clearly evident in the ability of pupils to speak readily and confidently about religious and spiritual matters.

Collective worship is well planned to communicate the vision. Pupils engage readily and understand the relevance to their lives.

SIAMS 2019
Our Vision (our school objective)
Our school's unique vision statement and our core objective, although deeply influenced by our Church school status and christian ethos, is designed to serve the whole school community:
'Enabling every young person to learn, flourish and succeed'
Our school community is served by this vision in that the school is an inclusive and non-selective school and recognises inclusion and pastoral care as key drivers towards the school identity. The Good Samaritan is the bible story adopted by the school community to underpin our school vision in that we want students to be courageous, hardworking, reflective, inspiring, supportive and tenacious.
The school's vision to 'enable every young person to learn, flourish and succeed' flows from a deep-seated moral purpose that firmly puts the student at the heart of everything the school does. The current headteacher was noted in the latest OFSTED report (Nov 2017) has 'giving highly principled leadership' and this flows through his leadership team. The selection of The Good Samaritan as a Christian narrative is a work in progress but underpins conversations that leaders have with staff and students.
The Routes to Resilience framework has allowed the College to develop key phrases within the Be CHRIST vision – this is overtly implicit throughout the development of a Christian narrative –
C – Be Courageous
H – Be Hardworking
R – Be Reflective
I – Be Inspiring
S – Be Supportive
T – Be Tenacious
Our Values
Our school values underpin our school vision / objective and are aligned with those of The Lutterworth Academies Trust. Our values are shared across the Trust.
They represent what is important to us as a school and symbolise what we stand for:
High aspirations for all
Committed to best practice, working collaboratively and learning from mistakes
Focused on the individual
An inclusive and comprehensive school
Everything geared to teaching and learning
Committed to shared values and our standing as a Church School.
A fair, supportive employer, enabling everyone to learn and develop
Celebrating success, having pride in all that we do
A broad education giving opportunity for human flourishing
Working closely with all stakeholders
Connected with the community, encouraging social responsibility
Our Strategic Aims
---
The strategic aims of Lutterworth College are aligned with those of The Lutterworth Academies Trust.
They represent what we want to achieve as a school community:
Providing the best teachers who teach the best lessons (our core academic strategy)
Developing the Be CHRIST characteristics in all of our students (our core pastoral strategy)
Leadership with a passionately-articulated shared vision
Learning pathways to meet the needs of every student
Physical environments fit for purpose, safe and accessible for all
Behaviour for learning which which encourages the highest aspirations for our students
Excellent systems of pastoral care to support personal development.
How will we get there? ( Our improvement tactics)
It is important to us to communicate our shared vision, values and strategy with all of our stakeholders.
It is also important that we know exactly how we are going to achieve our strategic aims and how we make our values a fundamental part of our school culture.
Based on an annual school Self Evaluation Form (SEF), each year the leadership team of the school write a detailed School Improvement Plan (SIP) which enables Governance to hold the school community to account. This annual plan details the improvement tactics by which we achieve our strategic aims and hence; our vision.