Careers Information & Guidance
Our aim at Lutterworth College is to provide students with high quality and impartial careers information, advice and guidance regarding students' pathways into potential careers.
We want to ensure that all students are able to learn, flourish and succeed both now and in the future.
We enable students to make informed decisions at key times in their education, for example with option choices in Year 8 and post-16 plans in Year 11, Year 12 and 13, as they plan for university or working life.
In addition to dedicated careers input for all year groups, the school's IAG programme includes interaction with universities and the local business community. Year 12 students are encouraged to get involved in volunteering and extra-curricular activities to enrich their work and life experiences, ensuring that they have more to offer employers or educational institutions in the future.
Through involvement in activities such as one-to one guidance interviews, career workshops, presentations, group work and mentoring, students will learn about self-awareness, opportunity awareness and how to explore options available to them. They will learn about employability; transition skills and how to make informed decisions.
We aim to help them:
Recognise and develop a range of transferable skills, attitudes and abilities that will enable them to be effective in a range of occupations
Develop career awareness and enable them to manage their own career development
Manage transitions in life and understand the importance of life-long learning
Make informed decisions and plan their future
Prepare for the opportunities, responsibilities and experiences of working life
Examples of support provided around careers for our students:
Support for applying for apprenticeships/jobs
Help with CV writing and cover letters
Support for completing college applications
Support for making university applications
Advice on local education/training options
This support is provided in a variety of ways, depending on the need of the student:
One-to-one meetings
Workshops
Group sessions
Drop-ins
Referrals from staff
Over email
Assemblies
Parenteral Engagement
We also provide support for parents and guardians through information evenings and events. These include:
GCSE Options Evening
6th Form Open Evening
A parents guide to University applications
Apprenticeship Evening
We are currently working with a number of external organisations to ensure that all CEIAG is impartial and well informed. In order to measure and quality assure our offer we are committed to working towards achieving the 8 Gatsby Benchmarks inline with the governments new statutory careers guidance policy.
The Gatsby Benchmarks are a framework of 8 guidelines that define the best careers provision in secondary schools. Here at Lutterworth College we are working hard to ensure that we meet all 8 benchmarks to the highest standard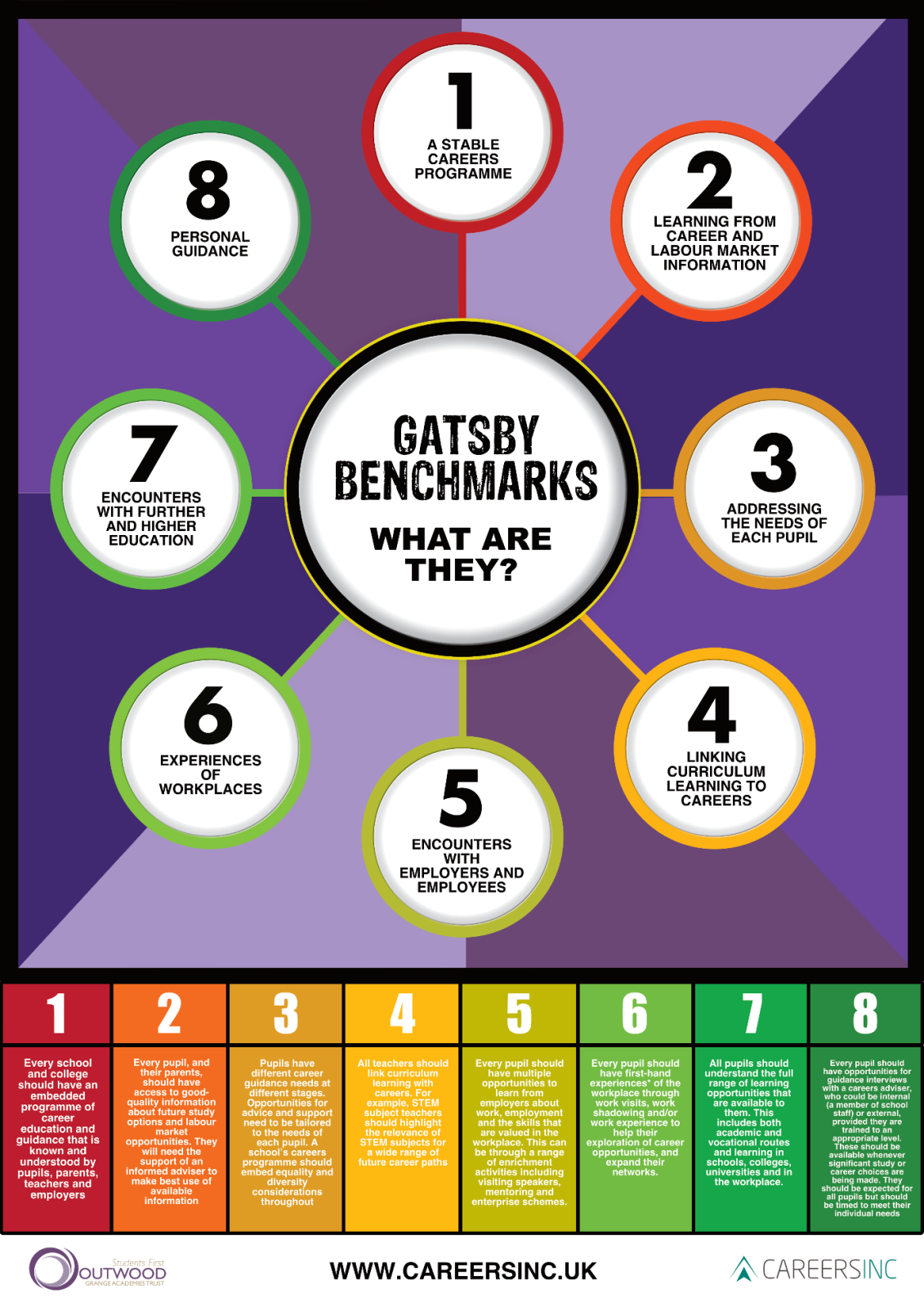 More information on the Gatsby Benchmarks can be found via the following link:
Local Businesses
If you are a local organisation who would like to get involved and support our Careers Programme please email: m.hadley@lutterworthcollege.com
Providers Access Policy
Introduction
This policy statement sets out the school's arrangements for managing the access of
providers to pupils at the school for the purpose of giving them information about the
provider's education or training offer. This complies with the school's legal
obligations under Section 42B of the Education Act 1997.
Pupil entitlement
All pupils in years 8-13 are entitled:
to find out about technical education qualifications and apprenticeships opportunities, as part of a careers programme which provides information on the full range of education and training options available at each transition point;
to hear from a range of local providers about the opportunities they offer, including technical education and apprenticeships – through options events, assemblies and group discussions and taster events;
to understand how to make applications for the full range of academic and technical courses.
Management of provider access requests
Procedure:
A provider wishing to request access should contact Michelle Hadley (Deputy Headteacher and Careers Leader)
Email: m.hadley@lutterworthcollege.com
Opportunities for access
A number of events, integrated into the school careers programme, will offer providers an opportunity to come into school to speak to pupils and/or their parents/carers
Autumn Term

Spring Term

Summer Term

Year 7

STEM Presentations

Career Aspiration Assembly (NCW)

Careers & Apprenticeship

Evening

Year 8

KS4 Options

Careers Aspiration

Assembly (NCW)

Career & Apprenticeship

Evening

Year 9

Looking Ahead Assembly

(KS5 and HE Options)

Career Aspiration Assembly (NCW)

Career & Apprenticeship

Evening

Career Aspiration Assembly

Year 10

LEBC Presentation

LEBC Interview Preparation

Career Aspiration

Assembly (NCW)

Career & Apprenticeship

Evening

Work Experience

Year 11

Assembly- Options at 16

Sixth Form Open Evening

1:1 Careers Meeting

Sixth Form Progression meetings

Career Aspiration

Assembly (NCW)

Career & Apprenticeship

Evening

1:1 Careers Meeting

Sixth Form Induction

Year 12

Apprenticeship Workshops

Fatal Four- Emergency Services Day

Work Experience & Volunteering Assembly

Apprenticeship Workshops

HE Fair

Work Experience & Volunteering Review 1

Career & Apprenticeship

Evening

Options at 18 day

HE & Career Planning Mentor Sessions

HE Information Evening (Parents & Students)

Work Experience & Volunteering Review 2

Year 13

LEBC Apprenticeship Workshops

HE & Career Planning Mentor Sessions

LEBC Apprenticeship Workshops

Work Experience & Volunteering Review 3

Career & Apprenticeship

Evening

UCAS Clearing & Extra

Work Experience & Volunteering Review 4
Please speak to our Careers Leader to identify the most suitable opportunity for you.
Premises and facilities
The school will make the main hall, Q Zone, classrooms or private meeting rooms available for discussions between the provider and students, as appropriate to the activity. The school will also make available AV and other specialist equipment to support provider presentations. This will all be discussed and agreed in advance of the visit with the Careers Leader or a member of their team.
Providers are welcome to leave a copy of their prospectus or other relevant course literature in the 6th form study centre (Q Zone) or the library, which is managed by the school librarian and the study centre manager.
Approval and review
Approved 12th March 2018 by Governors at The Lutterworth College Governors Meeting
Next review: June 2019
Helen Christie Chair of Governors Nick Summers Head teacher
Activities Offered Throughout the Year
In the Autumn term, the focus for Year 13 is on completing their UCAS applications and most crucially writing a strong Personal Statement.
More information on this can be found on the Applying to University page:
www.lutterworthcollege.com/Sixth-Form/UCAS/
In the Spring term, Lutterworth College hosts an apprenticeship evening with representation from a range of local employers, accompanied by a CV Workshop for students to create a CV or improve upon a CV they already have. This event is aimed at all students with an interest in apprenticeships or alternatives to Higher or Further Education.
Students are invited to take part in this event which allows them to liaise directly with industry contacts from a range of key occupational areas including IT, logistics, engineering, construction, sport and leisure, business, health and social care, accountancy and finance and the Forces, to investigate opportunities within the local area.
In the Summer term the focus turns to the Year 10 students as they embark upon a Careers Education programme once a week, as part of PSHE, in preparation for their next step at post-16. Students will access relevant websites to understand about FE pathways open to them such as Further Education colleges, apprenticeships and will also touch upon Personal Statement writing and Higher Education, as well as creating a CV and cover letter.
Meanwhile all Year 12 students will begin to draft a UCAS Personal Statement in Mentor Time, ahead of registering with UCAS Apply in July as part of the Higher Education Morning . This event involves talks regarding Student Finance and how to write an effective Personal Statement and other useful information for them to consider as part of the process of choosing a university and course. There is an Alternatives to Higher Education morning for those sure that university is not the right choice for them, involving local employers and working on students' employability skills.