College News 8th June 2018
This page is awaiting content
Headteachers message - The last leg..
First of all, a huge thanks to all those parents that turned up on Tuesday to our Numeracy Evening for new Year 7's starting in September. The feedback from the evening has been very positive and we hope everyone enjoyed the opportunity and challenges that took place.
Looking ahead to next week, our Year 10 students go out on Work Experience all week. Work Related Learning is a key part of a students journey at Lutterworth Academies Trust and our newly appointed Assistant Headteacher, Miss Raywood, will be overseeing this as part of her role from the upcoming academic year.
In other appointment news, Mrs Thornton (nee Bates) as been appointed as SENDCo for the Trust from this September. Mrs Thornton has been at the Trust for 17 years and we wish her all the best with this new responsibility. In the initial phase she will be working closely with Mrs Hadley, our current SENDCo, as the transition progresses.
As we progress into the last weeks of this academic year can I remind you of the last Parental Engagement Evening on Monday 18th June and the fund-raising Colour Run (see notice below) on Saturday 7th July. In fact, check out all the 'upcoming events' dates in the section below - especially those all important Results Day timings for Year 11 & Year 13!
all the best
Nick Summers
Executive Headteacher
Lutterworth Academies Trust
National singing success for Mr Lubkowski!
Over the May Half Term our Music Teacher Mr Lubkowski competed in the British Association of Barbershop Singers (BABS for short!) Quartet contest in Harrogate with his Quartet 'The Lockmsiths'. We are thrilled to say that he and his Quartet won the competition, with the second highest ever score! Mr Lubkowski also directs a Barbershop Chorus 'Tuxedo Junction' based out of Earl Shilton in Leicestershire, and they were placed 8th in the UK in the Chorus contest, winning the coveted Small Chorus Award!
There have also been opportunities afforded to our students in the world of Barbershop Music, with our student Quartet 'Diminished Fifth' finishing 6th in the Youth Quartet contest last year, and Mr Lubkowski is hoping to give more students then chance to hear and perform Acapella and Barbershop music, both boys and girls - so watch this space for more info!
Children in Need fundraising
Says it all ... well done to all involved!
Friends of Lutterworth College (FOLC) - Colour Run -Saturday 7th July 2018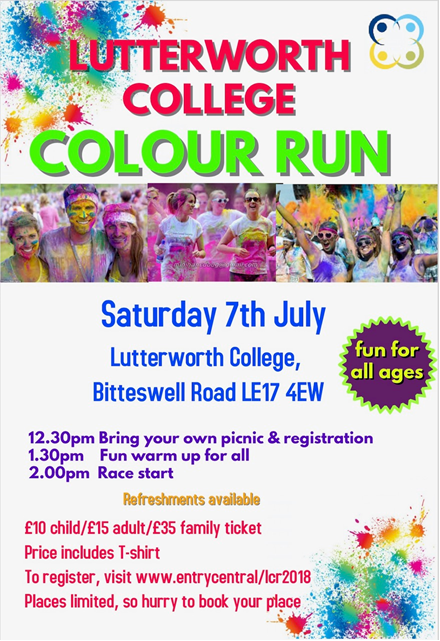 Parent Engagement Evenings
There is only one of these left this academic year:
Monday 18th June 2018
3.30-6.30 pm
Upcoming events
Changes to school day timing – Monday 21st May to Friday 22nd June
The timings will be as follows throughout this period:
Warning bell 8.35am
Period 1 8.40 – 9.40am
Mentor time 9.40 – 10.00am (note: this is 5 minutes shorter – but in line with next academic year)
Period 2 10.00 – 11.00am
Break 11.00 – 11.20am
Warning bell 11.15am
Period 3 11.20 – 12.20pm
Lunch 12.20 – 1.05pm
Warning bell 1.00pm
Period 4 1.05 – 2.05pm
movement time 2.05 – 2.10pm (as per next year as a 'trial period')
Period 5 2.10 – 3.10pm
Ramadan – 15th May to 14th June
Last Parental Engagement Evening of the Year – 18th June
Year 11 Prom (The Piano Rooms) – 22nd June
Public Exams finish – 22nd June
Year 5 Secondary School Experience – 25th-29th June
Year 12 Higher Education morning – 29th June
Year 13 Prom (Leicester Tigers) – 29th June
Sixth Form Induction – 2nd & 3rd July
Sports Day – 4th July
Year 10 STEM day – 5th July
Commemoration Service – 5th July
Drop Down Day – 6th July
Sixth Form Open Day (Year 12 – 2019 entry) – Saturday 7th July am
Canopy Gardens Colour Run – Saturday 7th July pm
New Year 7 Induction – 9th & 10th July
New Year 7 Parental Evening presentation – 10th July
A level Results Day – Thursday 17th August 2018 (07.00am)
GCSE Results Day – Thursday 24th August 2018 (09.00am)
Thought For The Week
"It is not the mountain we conquer, but ourselves"
Sir Edmund Hillary