College Newsletter – 15th March 2019
Calling all parents! We need your help…..
We are FOLC – Friends of Lutterworth College. We are a (very) small but friendly group of parents who are actively fundraising to improve the school environment for our children. In the past 12 months we have helped to raise a total of £4500 towards various projects including new benches in the Memorial Garden for students use during lunch and break times. This year we are aiming to landscape the area to further enhance the outdoor dining experience for students at Lutterworth College.
We are looking to increase our numbers and would be grateful for any support you are able to offer. We meet once every half term in the school library (with tea and homemade cake!) where we come up with new fundraising ideas and plan future events.
If you are able to support us by attending the meetings or volunteering to help at an event, we want to hear from you. If we can help to raise £4500 with only 5 members in a school of 1300 students, the potential funds with extra reinforcements could be limitless! Please click on the link below to register your interest and tell us how you would like to get involved. Once we have your contact details we will be in touch.
https://goo.gl/forms/nD0b265GR5hjSafQ2
The date of our next meeting is Wednesday 8th May, 6-7pm in the school library. We hope to see you there!
Helen, Kerry, Sally, Sarah and Sue
Friends of Lutterworth College (FOLC)
High School Musical
Never before have we received such amazing feedback on a College show! Thank you to all those that came to the 'sell-out' performnaces and to our amazing students and staff that put in so much effort and delivered such great performances.
A few pictures from the show to celebrate!
Bishop of Loughborough visit - Art Competition
Next Tuesday we will be welcoming the Bishop of Loughborough, the Revd Canon Dr Guli Francis-Dehqani, to the College to judge the Church secondary school's Art competition inspired by Stormzy's lyrics in 'Blinded by your grace'.
We look forward to welcoming both her and Carolyn Lewis, Leicester Diocese Director of Education, to our school to judge student's work from Year 7 & Year 8.
Announcement of new external caterers start date
Our new caterers, Aspens, will commence their contract with the school from Monday 29th April 2019. The staff will be the same that students are used to and the way parents pay for student food will also remain unaffected. There will be inevitably some getting used to a slightly different food offer but we are looking forward to the positive impact Aspens can have on our school.
Enrichment Day – Friday 12th April
All students (excluding Year 11 & Year 13 who will be busy preparing for their examinations) will take part in enrichment activities, trips and visits on Friday 12th April. Further details to follow over the coming weeks.
Year 10 Work Experience
Year 10 Work Experience dates this year are Monday 10th June to Friday 14th June 2019. This process will begin on the 8th April when we receive the first placements from LEBC. The school Work Experience co-ordinator is Alison Cant and she can be currently contacted at a.cant@sirfrankwhittlestudioschool.com if parents have any questions about student placements.
Transport meeting
Thank you for all those parents who provided commentary on transport issues over the last few weeks. We said that we would feedback on any developments as a consequence. As our largest commercial bus operator, Beaver Bus received 24 items of feedback which represents just 6% of the current users of this service. Whilst there were many positive comments received about services being prompt and very reliable we still met with the Local Authority & Beaver Bus, together with the High School, and discussed the safety issues raised by parents. These mainly concerned the numbers of students travelling on any one bus, the availability of seats for students to sit whilst travelling and the availability of seatbelts.
The Trust was assured by the Local Authority & Beaver Bus that they managed their services in compliance with statutory provisions and Beaver Bus drew our attention to their website statement: Please be aware that we are a Commercial Operator and operate double decker service buses that do not have seatbelts. We may legally carry standing passengers and your ticket purchase with Beaver Bus Ltd, reserves a place on the bus not a seat.
The Local Authority review their own policy around seatbelt usage on buses for entitled students and we were informed during the meeting that Senior Management at the LA would be reviewing this policy going forwards.
In the meantime, student bus users will soon receive the Leicestershire County Councils Safer Travel assembly from the Senior Schools Transport Tutor about behaviour whilst using bus services and the need to sit down during transit (often students are standing through their own choice blocking aisles and stairwells).
Next week's 'Thought for The Week'
'Forgiveness is the final form of love' Reinhold Niebuhr
All the best
Nick Summers
Headteacher
Upcoming Events
18th March – Year 9 Booster immunisations
19th March – Year 11 'in school' GCSE History Conference
19th March – Diocese of Leicester visit – Art Competition
1st-12th April – Pre Public Examinations (2nd set) – Year 11 & Year 13
3rd April – Parental Engagement Evening 7/9 (3.30-6.30pm)
4th April – Apprenticeship Fair (6-8pm)
5th April – FOLC Easter Quiz (evening)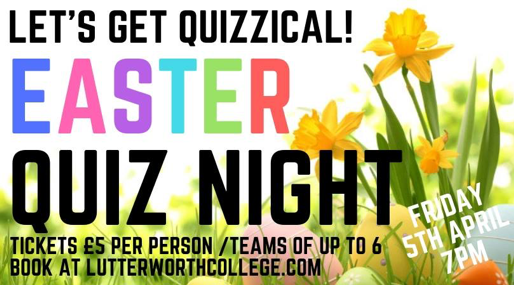 12th April – Enrichment Day – All students excluding Year 11 & Year 13
13th-28th April – Easter Holidays
29th April – 8th May – Pre-Public Examinations – Year 10 & Year 12
6th May – Bank Holiday
13th May – 28th June – GCSE & A level examination period
27th May – 31st May – Half Term
10th – 14th June – Year 10 Work Experience
24th June – Year 11 Prom (King Power Stadium)
28th June – Year 13 Prom (Leicester Tigers)
3rd July – College Commemoration Service
4th July – Sports Day
6th July (am) – Sixth Form open morning
6th (Saturday) July – FOLC Colour Run
12th July – last day of the academic year