Information For Prospective Sixth Form Students
Dear prospective Year 12,
The decison on where to study at Sixth Form is one of the most important decisions in your educational journey.
It's also an exciting time, and one rich with opportunity. The College has been educating the young people of Lutterworth and its surrounding areas for more than 140 years now, and our main aim hasn't changed. We want to enable every young person to learn, flourish and succeed. We do this by providing the best teachers teaching the best lessons for our students, and by having a strong support network for students within our Sixth Form leadership team, which helps them pastorally.
Furthermore, we are an inclusive Sixth Form offering a range of A Level and BTEC courses for students leaving Year 11 and looking for a fantastic all-round experience before they go off to university, apprenticeships or employment at 18.
Our Sixth Form is based in our dedicated Sixth Form Centre 'Lutterworth Sixth'. This includes specialist Sixth Form teaching rooms and facilities including The Sixth, our Costa coffee shop for the exclusive use of Sixth Form students. It is a dynamic and thriving environment where students can achieve highly, develop a strong independent work ethic and receive help and guidance to maximise their outcomes; we look forward to welcoming you to it!
APPLICATIONS CAN BE MADE VIA POSTIVE STEPS 16 OR VIA OUR APPLICATIONS PORTAL.
All the best
Charlotte Bennett, Richard Rolfe and Sara Raywood
your Sixth Form team
Prospectus
You can find an electronic version of our prospectus here
Life at Lutterworth Sixth
Getting in touch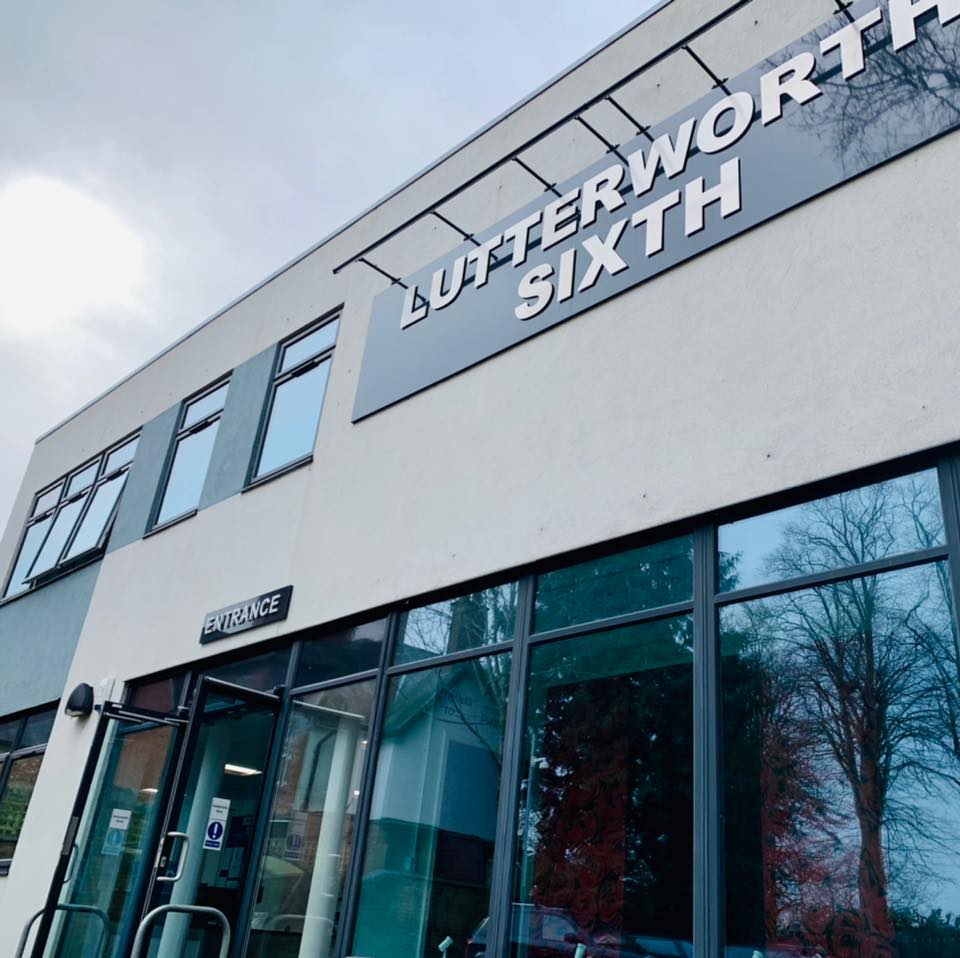 If you'd like to get in touch with any questions, your first ports of call are listed below:
For questions about applications and admissions, you can contact our Sixth Form Administrator Alison Culverhouse by emailing

a.culverhouse@lutterworthcollege.com

To arrange a tour during the school day,

click here and complete the form.
For any SEND questions, you can get in touch with our SENDCO, Miss Teal, by emailing sendco@lutterworthcollege.com.
For other issues, you can get in touch with our office by calling 01455 554 101, or by emailing enquiries@lutterworthcollege.com. Our office team will be able to help or direct you to the right person.
(Note that most staff email addresses use the format initial.surname@lutterworthcollege.com, and you can find a full list here.)
Communication from the College
The College uses a variety of channels of communication to get in touch with parents/carers:
The most important communications are

emailed, so we recommend that parents/carers check their inboxes daily.
You can also follow our social media channels for various updates: we're on Facebook

here, Twitter

here

and Instagram

here.
Parents will also have access to Go 4 Schools – which can be accessed online or with the app – that details student attendance, behaviour, rewards and progress in real time. This is in addition to Show My Homework (Satchel), an app and web service that acts as a homework planner for students. Login information will be shared for both of these at the start of the autumn term.
Transport
Most of our students walk to and from the College. A significant number, however, use buses. Many make use of the local Arriva and Hinckley Bus services, while others use those provided by Beaver Bus and Ausden Clark.
Click here for the School Transport section of our website, where you'll be able to access more information.
Dress Code
Whilst respecting student individuality, dress at Lutterworth Sixth must reflect the fact that the primary purpose of attending college is to learn. Dress should be respectful to individuals and the school environment. For safeguarding reasons, students in Sixth Form must wear their school ID card at all times.
To provide absolute clarity:
Students must be modestly dressed with no bare midriffs or backs on show

No hats within class or study areas

No offensive slogans

Shorts, skirts and any other lower garments should be no shorter than a palm width above the knee

No underwear should be visible
This list is not exhaustive and individual judgements may be made by the Sixth Form team.
Inappropriately dressed students will be sent home to change.
Your Sixth Form Team
The Sixth Form is led by a dynamic team with a wealth of experience in supporting students through Sixth Form, whether that be in achieving academic excellence, making choices about the future or in overcoming pastoral challenges. As teachers across three different faculties and with years of pastoral and university know-how under their belts , they are uniquely placed to make students' Sixth Form experience as rewarding and successful as possible. You can contact the team directly using the details below:
Mrs Bennett (Associate Assistant Headteacher and Head of Sixth Form) - c.bennett@lutterworthcollege.com
Mr Rolfe (Associate Assistant Headteacher and Head of Sixth Form) - r.rolfe@lutterworthcollege.com
Miss Raywood (Sixth Form Pastoral and Academic mentor) - s.raywood@lutterworthcollege.com
All students in our Sixth Form have a dedicated learning mentor who they will see on a daily basis. Mentors are the first port of call for students and will take an active role in supporting students throughout their time at Lutterworth College. They will also play a vital role in supporting them with their journey beyond Sixth Form.
We are very lucky to have a full time coach at Lutterworth College. Mrs Bird works on a referral basis and supports students with issues and concerns both academic and personal. Students wishing to be referred can do this via Miss Raywood.
Be CHRIST
As a Church of England school, the College welcomes students of all faiths and none.
In keeping with our Christian ethos, we want to develop learners who demonstrate our six 'Be CHRIST' characteristics by being:
Courageous, Hardworking, Reflective, Inspiring, Supportive and Tenacious.
Courageous students do the right thing, even when it is easier not to. They stand up for others. They try new things. They contribute in class, even when they aren't certain they've got the right answer.
Hardworking students always try their best. They take pride in their work. They complete tasks on time and to the highest standard. They fully commit to their learning and understand that effort leads to success.
Reflective students think about the small changes they can make that will have a big impact on their achievement. They prioritise feedback over grades. They think about the effect their behaviour has on others. They hone their skills as independent learners, to forge a path to success.
Inspiring students act as role models for others. They look for opportunities to flourish in school, getting involved in co-curricular activities and all areas of College life. They go the extra mile.
Supportive students help those in need. They are kind. They don't tolerate bullying or mean-spirited behaviour. They understand that everyone is unique, and value diversity. They are courteous to other students and to staff, and they support the college in showcasing its many assets.
Tenacious students never give up, no matter how hard the challenge. They recognise that success does not come easily. They see failure as an essential step on the road to fulfilment. They ask for help if they need it.
We have collective worship weekly during assemblies, where our Chaplain Graham Thomas offers time for reflection and a thought for the week. He also shares his thoughts on our social media channels twice weekly.
Enrichment
Lutterworth Sixth has a diverse and vibrant enrichment programme, which challenges students to learn and develop skills outside of the classroom.
These opportunities prepare our students for the adult world, building confidence and broadening their educational provision.
All Year 12 students must select an enrichment option at the beginning of the academic year. Details of courses on offer can be found HERE Year 13 students are also actively encouraged to get involved with enrichment activities, both in and out of college,
Amongst the range of activities we offer are:
Core Maths
Duke of Edinburgh
Extended Project Qualification
Financial Studies
Food Skills
Photography
Political Awareness
Pottery
Primary and Early Reach Outreach
Reader Leader
Sports Leaders
Tracking Students Progress
At the College, we work closely with our students and their parents/carers to track their progress. In doing so, our students know how well they are doing and, more importantly, what they need to do to make further progress in each of their subjects.
Students' attendance and conduct is also monitored closely through Support and Intervention levels which help students maintain high standards in these areas, and communicate concerns clearly and expediently to students and parents/carers with the aim of resolving any issues through target setting and review.
You can find out about how the College tracks student progress and communicates with parents/carers about it here.
Parental Engagement Evenings
In most schools, parents/carers have just one opportunity each year to attend a parents' evening for a child in a particular year group. This is often less than ideal for many families, particularly where securing time off work is difficult, or for year groups where parents' evenings have fallen later in the academic year – and perhaps too late for any significant impact.
At the College, we've replaced traditional parents' evenings with our Parental Engagement Evenings. These happen every 4 weeks during term time, with most of these evenings open to parents/carers of children in all year groups.
There are a number of benefits to this system:
Parents/carers can see teachers at several points throughout the year, rather than waiting for one designated evening.
Parents/carers have more flexibility to make appointments when it is convenient for them.
Parents/carers will be able to see teachers of children in different year groups on one occasion.
Teachers will be able to request to see parents/carers as the need arises, rather than having to wait for a specific year group evening.
Roughly 2 weeks prior to each evening, teachers meet to identify students whose parents we feel there is a pressing need to see. We will issue letters to the parents/carers of these students, and there will be a short 'priority window' in which these parents/carers can make appointments.
Following this, the booking system will open to all, and parents/carers will be able to book in to see the teachers with whom they'd like to meet.
We hope that all parents/carers will attend at least one of these evenings per year, but you are welcome to attend more often should the need arise. However, you will understand that, as some staff teach up to 400 students, it may not always be possible to secure an appointment on a given evening.
As always, if there is an urgent concern, parents should not feel they have to wait until the next Parental Engagement Evening. Contact the school as soon as you can so that we can address the issue immediately.
Our Facilities
'Lutterworth Sixth', our dedicated Sixth Form building, is designed to meet every need of our students. As a Lutterworth Sixth student, you will have exclusive access to a variety of social and study spaces as well as access to subject specialist facilities featured in and beyond Lutterworth Sixth itself.
As a student at Lutterworth Sixth, you will have exclusive access to 'The Brew House', our onsite Costa Coffee shop situated in our canteen which extends into a large outdoor seating area. Here students can enjoy a variety of food options and use the social times of the day in a comfortable and inclusive setting.
Lutterworth Sixth also features the Sixth Form Study Centre, available to use throughout the day. To accommodate our growing Sixth Form, we also have a larger study space located above our college library (also available for Sixth Form study) in 'Q Zone', available to any Sixth Form students looking for a productive place to study during non contact periods.
In addition to our social and study spaces, we are also very proud of the specialised subject facilities we offer at Lutterworth Sixth. These include:
Newly resurfaced sports facilities including our artificial turf pitch, formally tested to the standards of the International Hockey Federation (FIH) meaning that it is one of the top facilities of its type in the area.
Two newly developed black box Performing Arts studios in addition to our existing 260 seat theatre space and separate Dance studio
Sixth Form Art studio, a designated area in our substantial art department where our A Level students can develop their work.
Our specialist 'White Room' used for our Sixth Form Media students' photography and filming projects.
Our Agreements
Please read through the agreements below carefully, as by signing the admissions form, you acknowledge that you have read and agree to the College's policies and procedures.
Lutterworth Sixth Learning Agreement including Guided Hours
Off-site Visits and Sports Fixtures Agreement
ICT and Internet Provision Agreement
Fair Processing Notice - Data Protection
Withdrawal Consent for Data Processing Form - Adult